Hot Sales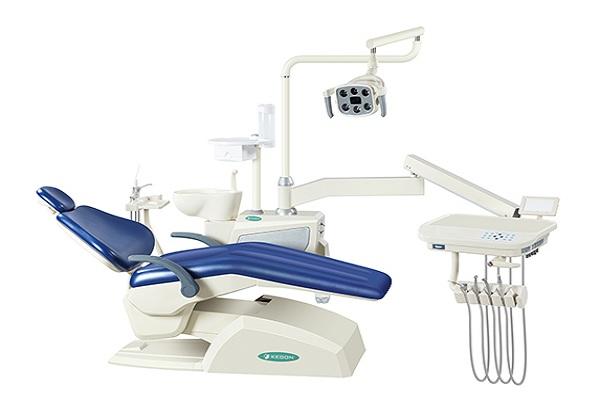 KEGON as a dental unit manufacturing factory specializing in the development, production, sales and service of oral medicine. With continuously efforts be put in producing oral dental chairs for more than 20 years and we have obtained many national honor certificates and international certifications , Such as: ISO 13485 ,CE certificate.
See More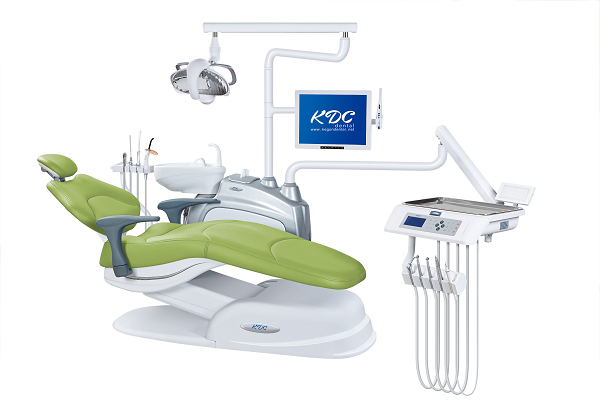 A healthy teeth is a good beginning of apperance, KEGON dental chair helps your teeth white and shiny again ! The Dental Chair is a especially designed scientific machine supposed to aid a patient's entire body, like a recliner, however articulated, so that the dentist can recline sufferers to simply any position.
See More
What Is Dental Equipment ?

Dental equipment, also known as oral equipment, is a component of medical technical equipment, and refers to all kinds of equipment, machines, instruments and accessories specially produced and/or provided to qualified personnel for use in clinical dentistry and/or related operation steps.

The technical aspects of dental equipment not only require products to meet the requirements of oral use, but also meet the safety requirements of medical electrical, so its standardization work involves a wide range, the corresponding international organization ISO/TC106 SC6 is specifically responsible for the standardization of this aspect.
Design of Water And Electricity Pipeline For Dental Chair Decoration In Dental Clinic

Common water and electricity road of a dental chair, the basic line layout is: water inlet pipe (φ 20PPR pipe), water pipe (φ 50PVC pipe), air pipe (φ 20PPR pipe), and power line.

If the dental chair needs to be connected with a negative pressure pump, it is also necessary to arrange a negative pressure sewer φ 25PVC pipe, some equipment needs to be equipped with 50 pipe) and a negative pressure signal line.

If the KEGON dental chair needs to be connected to a computer, a VGA signal cable or USB data cable should also be arranged. Some dental chairs do not have a display screen, need to arrange an HDMI cable.
How To Judge Good Quality Dental Chair ?

Every dental clinic is inseparable from the dental chair. The performance of the dental treatment chair is related to the treatment activity, which directly affects the treatment level of the dental clinic in the future. So, dental clinic how to choose dental chair hope can help you.

First, the basic method of choosing dental chair

1. See the configuration

After choosing a good dental chair model, we should see whether the configuration is suitable for ourselves. If you're an oral physician and don't need strong suction, you can skip it (if strong suction is standard rather than optional). In fact, two phones is a luxury, and you can cut back on one as needed.

2. Check more

To identify the quality of dental comprehensive treatment machine, we should observe it from the following aspects. First of all, observe the appearance of the machine, see if the shell is tightly combined, if the gap is very large, it indicates that the quality is not good. Then, take a look at the finish and machining accuracy of metal accessories. Metal accessories here mainly refer to the three-use spray gun and mobile phone sleeve. If they are very rough, it indicates that the quality is not good. Finally, open the shell to observe the seat position control heart: the motor.

3. Look at the price

Buy tooth chair, price is very important factor. Different dental chairs, the difference is very big. How to keep a dental chair on the cheap? Share the experience of buying dental treatment chair. What about the quality of the chair? First of all, it depends on how much business you expect. If you expect a very small volume of work and a small budget, then it is recommended that you buy pneumatic hydraulic dental chairs, which are low in price but poor in durability. When you expect a large volume of business, KEGON dental chair should be selected as far as possible. it is more durable, but the price is lower. Of course, now more and more dental clinics are choosing the air-controlled dental chair as the main dental equipment.

Two, the selection of dental chair professional methods

If you can make the above judgment, you have mastered the basic method of choosing a dental chair. Here's how to choose a dental chair from a more professional perspective.

Now oral cavity bound and patient pay attention to hygienic disinfection requirements, the country also made corresponding provisions. So how to know whether a dental chair meets the health requirements?

1, first of all, the health of the dental chair. There are no sanitary dead spots in itself. Sanitary dead spots refer to parts that are difficult to clean or cannot be cleaned. Strong and weak suction requirements can be equipped with disposable straw, such as the straw can be used repeatedly, requirements can withstand 135 degrees of high temperature disinfection. Of course, muti_function foot switch, no sense lamp is to satisfy the need of health.

2, dental chair after-sales service, especially dental chair maintenance. Many doctors found that some companies in the sale of dental chairs, little after-sales service, or no service, the machine out of trouble, can not be repaired immediately, causing a lot of unnecessary losses. Dental chair dealers in the after-sales service is quite perfect, 24-hour response mechanism, dental chair warranty commitment, for customers to save worry, save time, save money.

3, dental chair installation is very important. Every experienced engineer knows that problems can occur if the installation and commissioning are not in place. Therefore, when buying dental chair, we must find strong strength, and the company of good products, ask it to provide you with complete installation map, product size, technical parameters, and actively cooperate with it.
What Brand of Dental Chair Is Better?

I am a dentist, There are many factories producing dental chairs in Foshan, China, I visited a relatively strong production enterprise, Kexiang medical professional engaged in dental chair medical research and development, production, sales, service in one of the dental chair professional brand. Kexiang medical has a domestic brand of modern dental chair 30,000 square meters of production base. Has more than 2000 square meters of RESEARCH and development center, from hardware processing, plastic processing, etc., are completed by the company alone processing, has a cost advantage !

I think it is an honest, strong dental chair factory, After visiting the factory, I also choose to place an order for 20 PCS dental chair, have been used for several years, young fashion beautiful appearance, functions easy to use, new dental chair with sensitive touch circuit system, the whole pipeline disinfection function, the whole weight of dental chair is very stable, broad instrument plate mesa, the machine warm water supply, Related accessories 5 years of life quality, configuration is very cost-effective and so on, the use of a few years did not have a problem, the quality is very good, you can search: www.kegondental.net

It has a very detailed introduction of various models, standard configuration, performance characteristics, worth recommending to see.
The Main Aspects of Disinfection Dental Chair

KEGON disinfection dental chair is one of the most effective, safe, and convenient options to help keep your teeth as healthy and clean as possible. It removes germs and bacteria, as well as plaque. This type of chair has a suction cup used for cleaning underneath the seat and can also be used with an oral irrigator. A good Dental Chair will have several different controls that allow you to clean your teeth. Some of the more common controls are the following:

The main characteristic of a disinfection dental chair is the low-speed handpiece that sucks debris, dirt, food particles, and sediments from between your teeth. The handpiece includes a plastic cup for bacteria cleaning, a metal tray, and a stainless steel rail. The handpiece and its cup are similar in appearance to that of a toothbrush. A cover over the cup may also be used.

Some other common features of a disinfection dental units are its suction power and the strength of the suction. A strong suction disinfection system ensures that the entire seat is covered in solution, even under low-speed use. One of the most common problems experienced by patients is the presence of germs and bacteria that may not be visible or may be hidden by foods and mucous membranes. A strong suction system ensures that these unseen organisms are removed and the mouth is protected. Some units use a low-speed handpiece for easy control while others use a strong, low-asonic sound to sterilize the solution container.

There are two main types of dental solutions used in disinfection: low-frequency sound waves or high-frequency sound waves. The low-frequency system produces a sound that only lasts for about 30 milliseconds, which is sufficient to sterilize a small area but not enough to cover the entire seat. High-frequency solutions can be more effective because they create a high pressure stream that covers more of the dental chair for a longer period of time. A 1set high-frequency handpiece provides a complete solution for sterilizing the chair.

A dental patient has the option between a low-frequency sound wave system or a high-frequency sound wave system. A patient can select a system based on their comfort or on the needs of their particular situation. Low-frequency systems are more compact and take less time to implement. They are often used in conjunction with a low-speed handpiece, a high-frequency control system, and a suction pump. Suction pumps are generally used in high-frequency disinfection systems.

There are several important aspects of a dental chair disinfection procedure. The seat pan should be thoroughly cleaned to remove any residue from solutions, medications, or cleaning fluids. The seat fabric and padding should be removed to allow for a thorough cleaning and disinfection. The seat tray liner should be cleaned with specially designed solutions for optimum results. Finally, the seat cover, if applicable, should be replaced to keep your chair fresh looking.
CONTACT US


Foshan Kexiang Medical Instrument Co., Lid.
We are always providing our customers with reliable products and considerate services.
If you would like to keep touch with us directly, please go to contact us