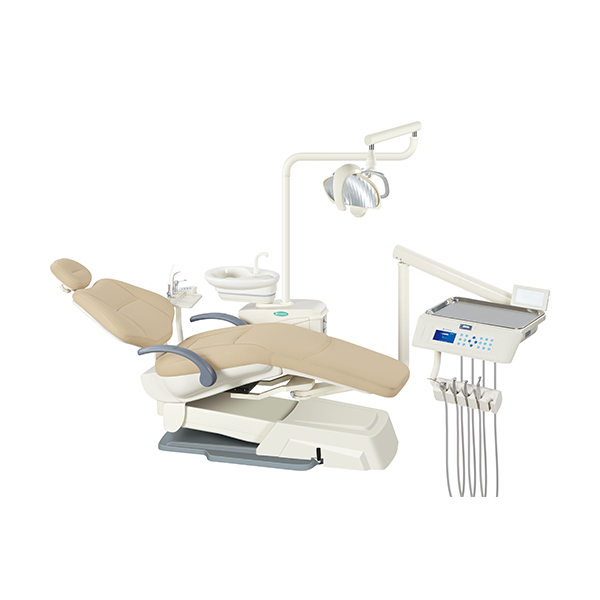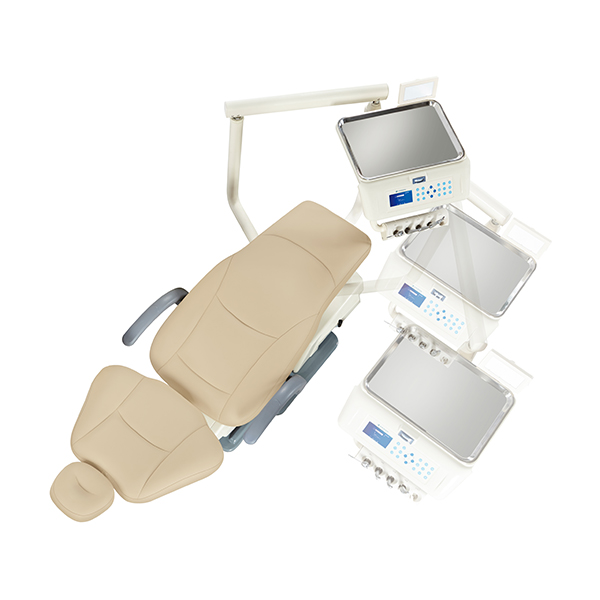 Dental Chair K-808 Luxurious Style
PRODUCT Description
Product Feature
Close to the Patient Freely
Ergonomics chair back design, can make doctors freely close to patients, environmental protection leather cushions to make patients more comfortable.
Full Solid Steel Plate, Cast Aluminum Base Plate
The design of cast aluminum structure is used to reduce the weight of the whole machine while ensuring rigidity. Wide bending plate to ensure the stability of the back of the chair; Comfortable handrails, more suitable for modern clinic style and trend; Cast aluminum base plate with six-point positioning, better stability
Solid Structure Connected to the Side Box of the Chair Frame
Side box connector panel sits at the center point of the device, structure of the equipment is more reasonable. The stability of the equipment in operation is greatly improved.

Unprecedented Experience
Luxurious style Oral comprehensive dental chair is a medical device with the theme of "luxury therapy" created by the medical department's oral clinicians. Designed to take full account of the comfort of patient visits and the convenience of doctors. The use of ergonomic principles, micro-computer control system, molded production process, is a good selection of materials, excellent performance, easy to operate, fashionable oral equipment.
Product Advantage
Safety
Dental chair interlock,safety emergency stop, water and air power one-click switch, water and gas separation structure, first aid chair position, resistance protection.
Sanitation
Spittoon detachable disinfection, strong and weak suction detachable disinfection, handpiece disinfection, intelligent spittoon disinfection.
Quality
All-metal induction device disk, Taiwan low noise motor, imported handpiece tube. Hydrolyzed anti-aging polyether tube, American diaphragm, stainless steel corrugated foot tube.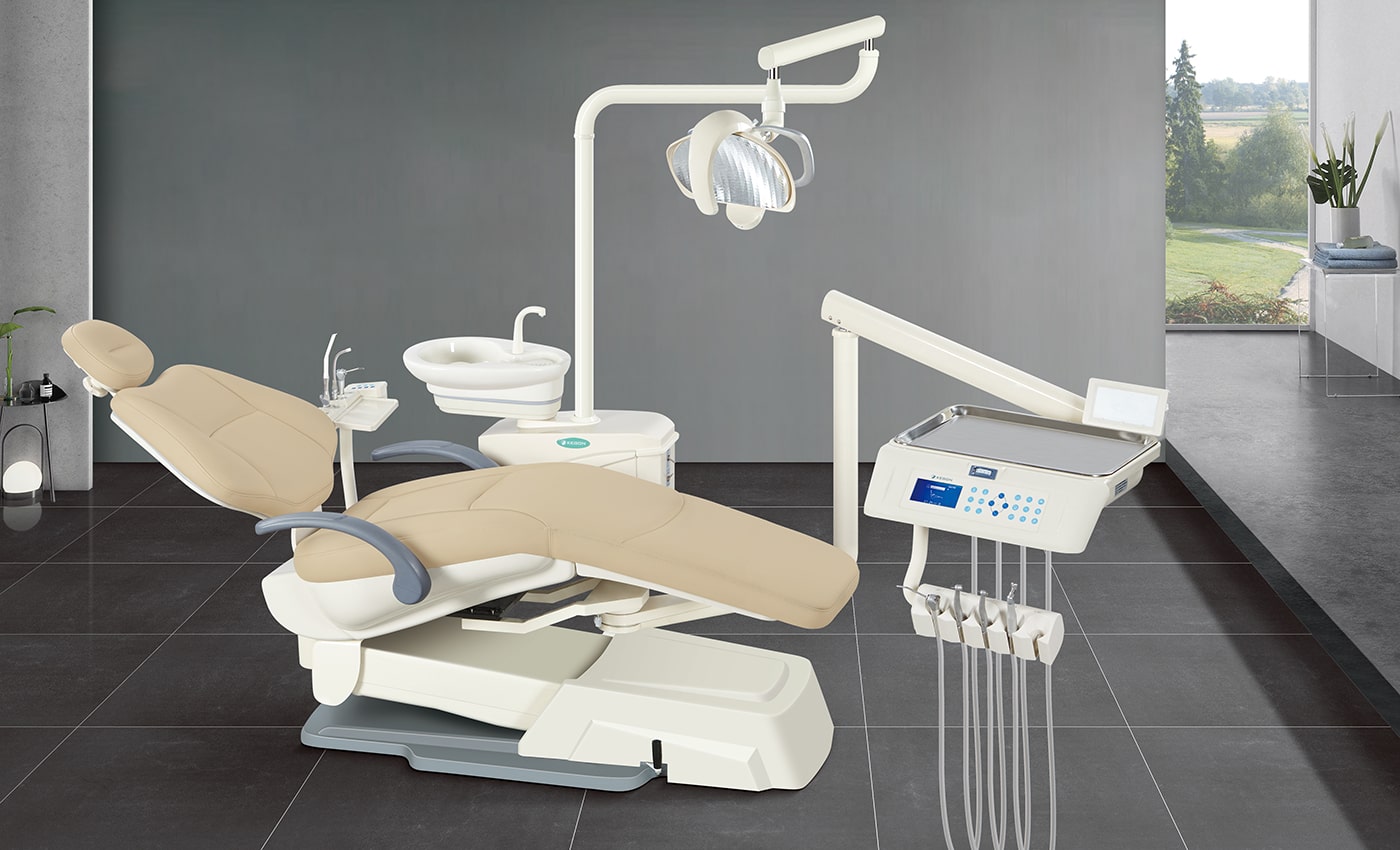 Oral Lamp
Inductive switch control with no pole adjustment of brightness;
Aluminium handle removable for easy disinfection.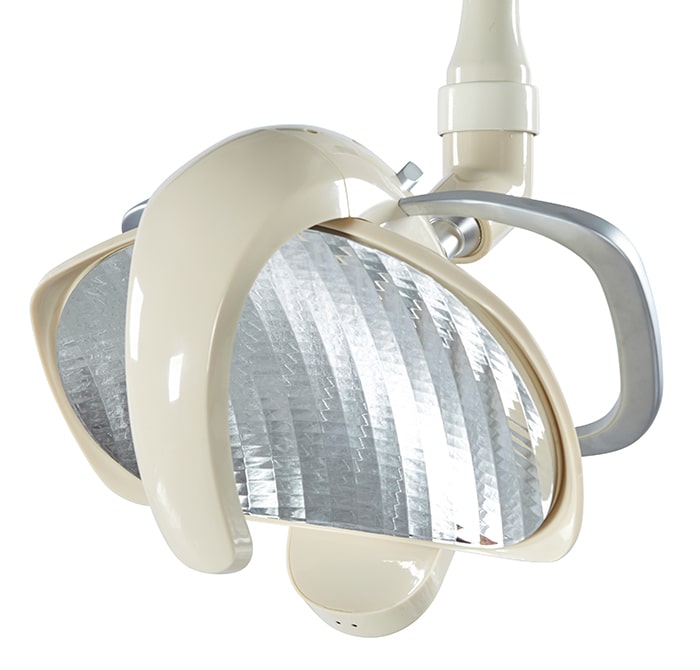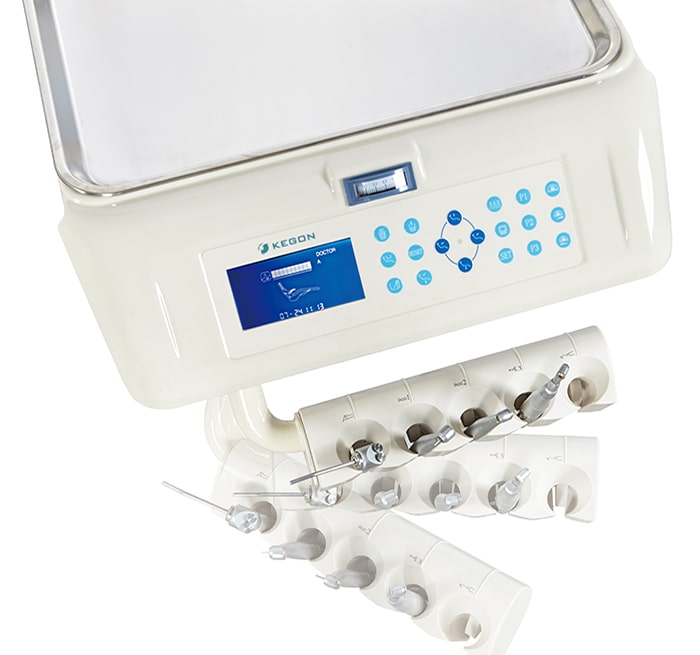 Dentist Work Table
Date showing; Anti-fouling stainless steel removable plate, can be high temperature sterilization treatment.
Side Box
Side box can be rotated 90 degrees, convenient four-hand operation.
Integrated one-click waterway disinfection, can be sterilized handpiece tubes, three way syringe tubes and other disinfection treatment, effectively avoid cross-infection.
The spittoon basin can be rotated 90 °to facilitate the patient to spit.
Fast plug-in ceramic spittoon basin and nozzle for easy disinfection treatment.
Fast plug-in type strong and weak suction filter, external filter screen, convenient cleaning and maintenance.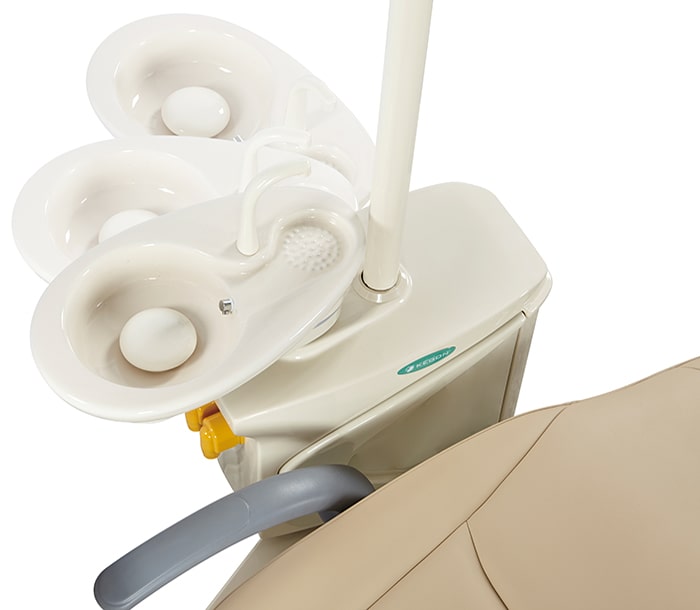 Convenient & Comfortable
Space Free, Free to Manipulate
Large space design, multi-directional free rotation according to the needs of treatment.
Stable and Durable, Efficient Treatment
Manufactured with robust, stable materials eliminates mid-yielding shaking in the operation of the treatment chair and increases the treatment rate.
Intelligent space, control freely, concise fashion.
Standard Configuration of Kegon Dental Chair
● Silence, stable, no jitter
● Unique rail type compensatory chair position
● Emergence chair position
● Quick reset function(less than 9s)
● One-click spitting position
● Postoperative cleaning chair position
● 9 Memory position
● All-computer liquid crystal display screen
● Box and stainless steel tray adjustable and interchangeable by 180 degrees(For left and right hand operation)
● Deluxe double joint folding head pillow
● Wear resistant double joint folding head pillow
● Wear resistant and super fiber leather sofa chair
● Multifunctional pedal switch
● Deluxe induction 6 hole LED oral lamp
● Wear-resistant super fiber dermatologist's working seat
● Stainless die cast aluminum base plate
● One key water,air, electric switch
● Dental uint K-808 Had anti-retraction valve
Main box part
● Water purification bottle water supply system
● Rotatable all ceramic spittoon
● Bring your own pipe cleaning and disinfection system to relieve the pressure of the doctor
● Adjustable mouthwash pressure regulator
● Large capacity automatic constant temperature heating system
● Strong suction negative pressure system
● Strong absorption and silencing device
● Weak suction negative pressure system
● Suction filter device
Doctor's working table
● Multifunction luxurious doctor operation panel
● 135-degree rotatable tilted large hanging frame
● Three four-hole handpiece tubes
● Barometer
● Three ways syringe
● Built-in 24VDC panoramic view lamp
● Balance arm is control by double air brake
● Deluxe digital display function
Assistance's working table
● Detachable assistive device tray for easy cleaning and hygiene
● Large assistant operation panel
● Hot water spray gun
● Easily detachable suction and salivary filtration device
● Detachable weakly drawn aluminium alloy joint
● Detachable strong absorbing aluminum alloy joint
Our quality
Stable chair frame: K-808 the whole chair frame adopts precision casting technology, solid cast aluminum bottom plate, unique track type design, precise casting parts ensure that all parts cooperate with each other, chair motion will not shake tens of thousands of times, and durable.
Imported USA water pipe: acid and alkali resistance, long life, can be used for many years without leakage and leakage. Kexiang uses a variety of colors of pipes, easy docking when customers install, easy after-sale inspection.
Imported solenoid valve: imported solenoid valve durable and safe, not easy to damage.
Imported low noise motor, mute, comfortable, no jitter, longer life
Rotatable chassis; increases the space position for the second hand, more convenient four-handed operation.
Deluxe induction six hole LED cold light lamp: inductive tape switch, and has white and yellow light source choice, no pole 6 light intensity adjustment.
Application Frontier LED Technology
Fusion of scientific optical structure to achieve the perfect oral treatment lighting solution; inductive switch and brightness adjustment: movable handle design, can be personalized angle adjustment and disassembly cleaning and disinfection.
Wear resistant super fiber auto dermis: the seat cushion is made of ultra-fine fiber manual sewn leather, fine cortex, soft and comfortable sitting feeling, and can keep the patient comfortable and relaxed even after long time treatment, even if it is used for a long time, it will not produce hard cracking.
Independent water regulation design
Easily detachable pillow
Easily detachable suction filter
Luxury gas brake stainless steel tray; with gas brake stainless steel tray, convenient for doctors to place surgical tools.
Moving tool disk
Tool plate can be rotated 180 degrees to facilitate the doctor's work habits, the left hand and the right hand operation is equally handy
Luxury rotatable ceramic spittoon: easy to clean, clean and detoxify, bring comfort to patients, but also bring higherefficiency to doctors.
Options
1. Imported or homemade four-hole high-speed mobile phone
2. Oral endoscopy system
3. Imported or domestic dental cleaning machine
4. Imported or domestic light curing machine
5. Upper mounted instrument disc
6. Deluxe 18 hole shadow-less lamp
7. ECG monitor
CONTACT US


Foshan Kexiang Medical Instrument Co., Lid.
We are always providing our customers with reliable products and considerate services.
If you would like to keep touch with us directly, please go to contact us